I have my family organisation under control – thanks to digital helpers.
Efficient coordination makes your family's daily life easier and thus creates more time for wonderful shared moments. With the right apps, family organisation becomes (almost) child's play for you and your family.
Well-organised is half the battle
A well-organised family routine is a challenge – especially in a hectic world where we are inundated with deadlines and appointments. Fortunately, there are numerous apps nowadays that help structure family life. We present ten practical apps to you in this article. Of course, the list is not exhaustive, and there are countless other everyday forms of help. Maybe you also have a tip? Then we look forward to your input via email at marketing.epost@klara.ch.
1. Maintain an overview: the TimeTree Calendar
Calendar apps are ten a penny these days. Many of them are good. But what sets TimeTree apart is that it's easier here than anywhere else to share and coordinate calendars. This advantage makes TimeTree the optimum calendar app for families.
Popular alternatives are Google Calendar and the Swiss calendar app "Shubidu", which specialises in family organisation.
2. For inquisitive parents: parentu
Parenting is undoubtedly a challenge – perhaps the greatest one of all. That's why well-founded information on topics such as education, parenting, and child health is particularly important. At parentu, experts provide you with precisely this information – and in 13 languages, to help as many people as possible. Practical: Organisation by age is convenient and enables you to find the articles that are relevant for your children at any time.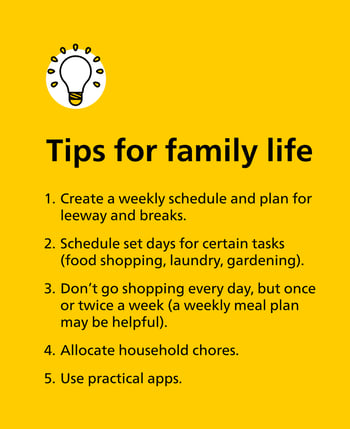 3. No more overwhelming paperwork: ePost
ePost helps you manage family mail digitally. The app allows you to scan (or let ePost scan) important letters and documents and store them securely. This not only reduces your paperwork, but also the risk of losing important documents. ePost also offers the option to set reminders for invoice due dates.
4. The digital shopping list: Bring!
The "Bring!" app revolutionises the shopping list. With this practical application, you and your family members can create and update a shopping list together. If someone buys something at the supermarket, the app checks it off in real-time, so everyone keeps track of the items needed. The app also allows you to add photos. This feature is useful when children go shopping alone or when dad regularly brings home the wrong flour.
5. For breastfeeding mothers: mamamap
Breastfeeding is permitted everywhere in public. But sometimes, breastfeeding mothers want some peace and privacy. With mamamap, they can quickly and easily find a breastfeeding location nearby where they are welcome with their children.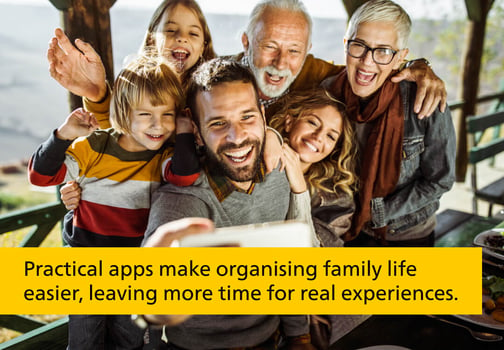 6. Making cybersecurity fun: A Fox in the Net
To be honest: when a child plays on the smartphone, it sometimes gives a parent a welcome break. But at the same time, we know that dangers lurk in the digital realm – especially for children. It's therefore important for children to learn media skills. With the smartphone game "A Fox in the Net", children of primary school age learn the basics of cybersecurity in a fun way. A win-win situation: the child gains new skills, and the parents get a little space.
7. For awkward moments: Toilet Scout
"Mum! I need the toilet!" In moments when it's suddenly urgent, a glance at the smartphone helps:
thanks to the "Toilet Scout" app, you can quickly find the nearest lavatories.
8. Sharing memories FamilyAlbum: Photos and videos
Being a parent often means being really busy. There's rarely time to stick pictures in the children's photo album. Instead, photos and videos are haphazardly stored on your family's smartphones. FamiliyAlbum allows you to automatically sort and share photos – for example, to involve grandparents in your children's lives.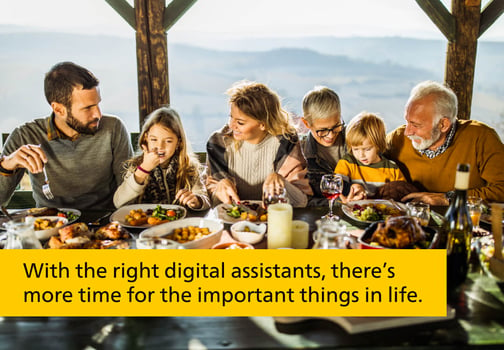 9. Everything under control: Babyphone 3G
We'll be completely honest with you: most baby monitor apps aren't very professional or only work on one system (e.g., Dormi only functions on Android). Babyphone 3G is the exception. With the app, you can hear every sound in the child's room, monitor them via camera, or calm them down remotely thanks to the intercom function. However, a night light is required for the video transmission to work, which could potentially disturb the child. In this regard, classic baby monitors with their infra-red cameras are better equipped. Conclusion: the Babyphone 3G app is adequate when travelling or for a spontaneous visit to the neighbours. Otherwise, traditional baby monitors are still a better choice.
10. For the adventurous: Family Missions
The story of this app began during the COVID-19 lockdown. Philippe Münzenmaier and his son Lukas were unsure how to best use their time together. The father suddenly remembered past cinema visits with all the delicious treats such as ice cream, nachos, dips, and gummy bears, as well as the enticing smell of fresh popcorn. They both thought: that would be a great idea right now. However, since cinemas were closed due to the pandemic, they decided to craft their own cinema tickets, paint a film poster, and prepare delicious dips. To perfect the atmosphere, they barricaded the kitchen with a ribbon that read "Staff only". The creative father-son time became an unforgettable experience.
This inspired the "Family Missions" app: it includes numerous missions and experiences that aim to bring parents and children of primary school age closer together. In addition to the family cinema evening, the app, for example, inspires camping at home or building a bee hotel.
Digital helpers to make family life easier
In this sense: we hope that you have found one or more apps in this list that perfectly match the needs of your family. Above all, we trust that you and your family will find even more time to create unforgettable stories thanks to these tips!
No Comments Yet
Let us know what you think